Charlotte Web Cameras
[ Weather | Uptown-1 | Uptown-2 | Burbs | Fringes | Beach | Home ]
---
SkyMax Doppler Image
---
Doppler 9 Image
---
Radar Plus Image
For more weather info, see the NWS Greenville Radar Summary or NEXRAD (Doppler).... Additional resources are available on KDJ's Weather Page or at the Charlotte Area Skywarn Interactive Web Site.
See also the Emergency E-mail Network for pager/email notifications about severe weather.
---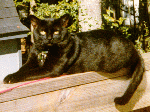 This page brought to you by: Larry - The Weather Cat

Larry's Forecast: ha-ha.. if I'm under the couch, we've got us a thunderstorm...
---
[ Weather | Uptown-1 | Uptown-2 | Burbs | Fringes | Beach | Home ]